With November being national TMJ Awareness Month, Drop-In Dental is urging patients suffering from painful TMJ symptoms to find relief with mobile dentistry services. TMJ Awareness Month is a national movement designated to give the public a greater understanding of what TMJ is and how those experiencing TMJ disorder can manage their symptoms. 
We understand that dental care isn't accessible to everyone, but everyone needs dental care, especially those with TMJ disorder. Mobile dentistry allows us to provide onsite dental care from your home, workplace, or school for convenient service. Learn more about how you can acknowledge TMJ Awareness Month with a visit from an onsite mobile dentist.  

What is TMJ?
TMJ stands for temporomandibular joint. It refers to the joint located on either side of the jaw that allows up and down movement. The temporomandibular joint connects your jawbone to your skull and acts like a hinge capable of sliding open and closed. This joint allows you to bite and chew your food as well as speak. 
It's common to experience discomfort in the jaw when the temporomandibular joint becomes misaligned. The misalignment causes an imbalance that puts additional stress on the jaw. This is known as TMJ disorder, but many people simply refer to it as TMJ. Predominantly, patients suffering from TMJ disorder notice pain and compromised movement of the jaw as a result. 
Symptoms of TMJ Disorder 
When assessing TMJ disorder in patients, the most common symptoms include inflammation around the jaw and chronic orofacial pain. Pain caused by TMJ may be felt in various parts of the body including your jaw, mouth, neck, shoulders, and head. With TMJ disorder being the second most common cause of orofacial pain, it's important to manage your symptoms appropriately in order to regain optimal function of the jaw. 
Other symptoms of TMJ disorder include:
Difficulty or discomfort when chewing or biting down

Popping or clicking noise when opening and closing the mouth

Tooth sensitivity to warm or cold temperatures

Dull pain throughout the face

Migraines or headaches

Jaw, neck, or shoulder pain

Ringing or pain in the ears

Locking of the jaw joint
TMJ Treatment Options
TMJ disorders can be caused by teeth grinding or clenching, or misalignment of the teeth or jaw and may also be caused by trauma or muscle tension. Treatment for TMJ varies from patient to patient depending on the cause of the disorder and its symptoms. In some instances, a plastic mouthpiece can be fitted to your mouth to stop clenching or grinding. Other dental treatments for TMJ include replacing missing teeth, moving teeth, filling in gaps between teeth, or adjusting the bite.
Drop-In Dental will examine your mouth and jaw to determine the best method of treatment for you. We may also recommend lifestyle changes and home therapy methods to help relieve your symptoms further. This may include heat and cold therapies, stretching and massaging of the jaw muscle, and limited use of the jaw (no gum chewing, eating soft foods, etc.). 
Managing Painful TMJ with Mobile Dental Care 
TMJ disorder is a serious issue that can cause significant discomfort and disruption to your daily life. This TMJ Awareness Month, start managing your TMJ symptoms with onsite mobile dentistry from Drop-In Dental. We'll provide you with an effective TMJ treatment plan that will help you achieve optimal oral health. Connect with us today to schedule an appointment to manage your TMJ!
To learn more about Drop-In Dental's practice, visit us online at dropindental.com or call us at (775)-453-0142. And remember, our goal is to make employee dental cleanings and checkups less of a scheduling conflict and more of a personal priority!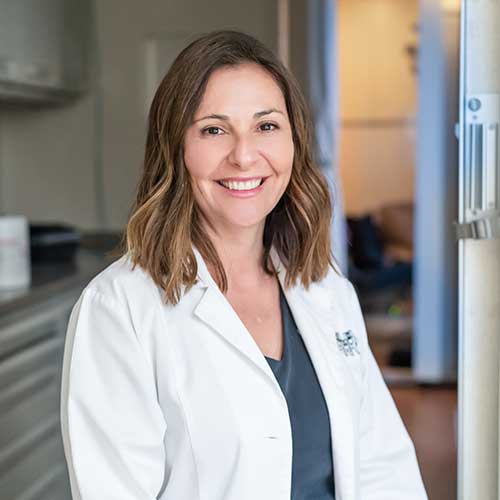 Drop In Dental is a women-owned small business that prides itself on the revolutionary dental services it's able to provide the community. Dr. Vazquez is a graduate of Columbia University School of Dental Medicine. As an ADA member, she served on the council for Diversity and Inclusion. Dr. V is passionate about innovating healthcare and takes a particular interest in providing care in non-traditional settings.
Her team is also made up of other career-driven women eager to help the community get high-quality dental care that's easy and convenient for them. Learn more about Drop In Dental and the team below!
"OUR MISSION IS TO INSPIRE AND FACILITATE A HEALTHIER COMMUNITY BY CONNECTING DENTISTRY TO THE END-USER AT THEIR WORKPLACE, CREATING A BETTER EVERYDAY LIFE AND FUTURE FOR ALL."
With October being National Small Business Month, we're excited to announce that Dr. Veronkia Vazquez was featured for her work in an article written by Nevada Today, a news outlet run by Reno's own university. The article discusses Veronika and her small business in-depth, while telling the story of what got her interested in mobile dentistry in the first place. 
Veronika Vazquez, DDS is a local Reno dentist who sought to provide greater dental care to her community. She realized that part of the reason people weren't seeing their dentist regularly was due to inaccessibility. Whether it's caused by a lack of safe transportation or an inability to get time away from work, patients started visiting their dentist less and less. 
Today, Dr. Vazquez delivers quality mobile dental care to businesses, senior living centers, schools, and more around urban and rural Nevada. Drop In Dental, mobile dentistry, makes keeping up with regular dental appointments simple by bringing the dentist chair directly to you. The mobile dentistry van is equipped with all necessary dental tools and equipment required to perform dental x-rays, cleanings, and exams. 
Connect with our mobile dentistry team to have our dental care services delivered right to your workplace or living center!