It's no secret that as we age we face more health complications. This is true for our oral health as well. Advanced age puts seniors at risk for developing various dental problems such as darkened teeth, dry mouth, lost sense of taste, gum disease, tooth loss, root decay, uneven bone structure, stomatitis brought on by dentures, and thrush. 
We're aware that many seniors, particularly those in senior living communities, have limited access to dental care. With mobile dentistry services like those from Drop-In Dental, oral care is more convenient and readily available to seniors in need.
Oral Health Challenges for Seniors
At-home dental care is much more difficult for seniors who have physical or cognitive limitations. For example, dementia patients may completely forget about their oral hygiene or even how to brush their teeth. Physical limitations like painful arthritis in the hands also restrict a person's ability to properly care for their teeth due to limited mobility. 
Fortunately, there are several helpful tools and solutions that have been made specifically for seniors to alleviate their challenges. 
Routine Care Gets Your Oral Health Back On Track
Studies have shown that seniors are more likely to maintain their dental health and keep their teeth if they receive regular treatment and care. The best way to avoid dental problems and reduce the stress of dental care is through prevention. Preventive dentistry focuses on developing healthy oral habits at home combined with efforts from professional dental practices. 
Mobile dentistry services are better equipped and more capable of providing onsite dental care to seniors in assisted living communities. We are able to assist with routine cleanings, x-rays, check-ups, broken dentures, fillings, and more. 
Other Tips For Improved Oral Hygiene
Practicing proper oral hygiene at home is crucial to have a healthy smile, so while routine visits with a mobile dentist are necessary, so is daily oral maintenance. Seniors should practice the following to increase their chances of maintaining a healthy mouth:
See a dentist twice a year to have teeth cleaned and examined.

Rinse with an antiseptic mouthwash once or twice a day (if capable).

Floss at least once daily.

Brush twice a day.
Bring Dental Care Directly to Seniors with Our Mobile Dentistry 
One of the main hindrances faced by seniors in need of dental care is transportation. We understand how difficult it can be to find reliable, safe transportation for seniors to see their dentist, which is why Drop-In Dental was created. Mobile dentistry brings your dentist and their tools right to your location, not the other way around. 
Our dental RV is equipped with a wheelchair lift and is made accessible to anyone in need of dental care—including seniors. Our providers can see seniors in a comfortable, safe environment right outside their residence. Contact us today to learn more about mobile dentistry services for your senior living community. 
With November being national TMJ Awareness Month, Drop-In Dental is urging patients suffering from painful TMJ symptoms to find relief with mobile dentistry services. TMJ Awareness Month is a national movement designated to give the public a greater understanding of what TMJ is and how those experiencing TMJ disorder can manage their symptoms. 
We understand that dental care isn't accessible to everyone, but everyone needs dental care, especially those with TMJ disorder. Mobile dentistry allows us to provide onsite dental care from your home, workplace, or school for convenient service. Learn more about how you can acknowledge TMJ Awareness Month with a visit from an onsite mobile dentist.  

What is TMJ?
TMJ stands for temporomandibular joint. It refers to the joint located on either side of the jaw that allows up and down movement. The temporomandibular joint connects your jawbone to your skull and acts like a hinge capable of sliding open and closed. This joint allows you to bite and chew your food as well as speak. 
It's common to experience discomfort in the jaw when the temporomandibular joint becomes misaligned. The misalignment causes an imbalance that puts additional stress on the jaw. This is known as TMJ disorder, but many people simply refer to it as TMJ. Predominantly, patients suffering from TMJ disorder notice pain and compromised movement of the jaw as a result. 
Symptoms of TMJ Disorder 
When assessing TMJ disorder in patients, the most common symptoms include inflammation around the jaw and chronic orofacial pain. Pain caused by TMJ may be felt in various parts of the body including your jaw, mouth, neck, shoulders, and head. With TMJ disorder being the second most common cause of orofacial pain, it's important to manage your symptoms appropriately in order to regain optimal function of the jaw. 
Other symptoms of TMJ disorder include:
Difficulty or discomfort when chewing or biting down

Popping or clicking noise when opening and closing the mouth

Tooth sensitivity to warm or cold temperatures

Dull pain throughout the face

Migraines or headaches

Jaw, neck, or shoulder pain

Ringing or pain in the ears

Locking of the jaw joint
TMJ Treatment Options
TMJ disorders can be caused by teeth grinding or clenching, or misalignment of the teeth or jaw and may also be caused by trauma or muscle tension. Treatment for TMJ varies from patient to patient depending on the cause of the disorder and its symptoms. In some instances, a plastic mouthpiece can be fitted to your mouth to stop clenching or grinding. Other dental treatments for TMJ include replacing missing teeth, moving teeth, filling in gaps between teeth, or adjusting the bite.
Drop-In Dental will examine your mouth and jaw to determine the best method of treatment for you. We may also recommend lifestyle changes and home therapy methods to help relieve your symptoms further. This may include heat and cold therapies, stretching and massaging of the jaw muscle, and limited use of the jaw (no gum chewing, eating soft foods, etc.). 
Managing Painful TMJ with Mobile Dental Care 
TMJ disorder is a serious issue that can cause significant discomfort and disruption to your daily life. This TMJ Awareness Month, start managing your TMJ symptoms with onsite mobile dentistry from Drop-In Dental. We'll provide you with an effective TMJ treatment plan that will help you achieve optimal oral health. Connect with us today to schedule an appointment to manage your TMJ!
To learn more about Drop-In Dental's practice, visit us online at dropindental.com or call us at (775)-453-0142. And remember, our goal is to make employee dental cleanings and checkups less of a scheduling conflict and more of a personal priority!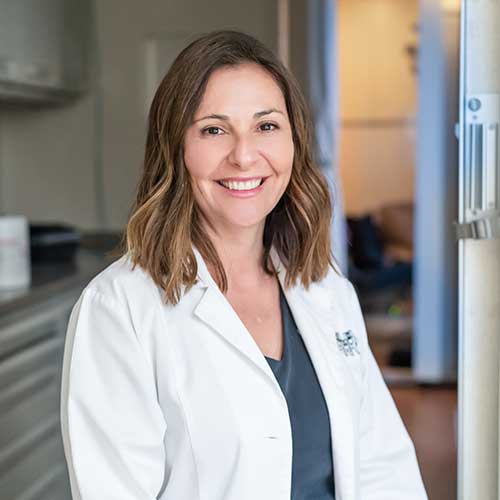 Drop In Dental is a women-owned small business that prides itself on the revolutionary dental services it's able to provide the community. Dr. Vazquez is a graduate of Columbia University School of Dental Medicine. As an ADA member, she served on the council for Diversity and Inclusion. Dr. V is passionate about innovating healthcare and takes a particular interest in providing care in non-traditional settings.
Her team is also made up of other career-driven women eager to help the community get high-quality dental care that's easy and convenient for them. Learn more about Drop In Dental and the team below!
"OUR MISSION IS TO INSPIRE AND FACILITATE A HEALTHIER COMMUNITY BY CONNECTING DENTISTRY TO THE END-USER AT THEIR WORKPLACE, CREATING A BETTER EVERYDAY LIFE AND FUTURE FOR ALL."
With October being National Small Business Month, we're excited to announce that Dr. Veronkia Vazquez was featured for her work in an article written by Nevada Today, a news outlet run by Reno's own university. The article discusses Veronika and her small business in-depth, while telling the story of what got her interested in mobile dentistry in the first place. 
Veronika Vazquez, DDS is a local Reno dentist who sought to provide greater dental care to her community. She realized that part of the reason people weren't seeing their dentist regularly was due to inaccessibility. Whether it's caused by a lack of safe transportation or an inability to get time away from work, patients started visiting their dentist less and less. 
Today, Dr. Vazquez delivers quality mobile dental care to businesses, senior living centers, schools, and more around urban and rural Nevada. Drop In Dental, mobile dentistry, makes keeping up with regular dental appointments simple by bringing the dentist chair directly to you. The mobile dentistry van is equipped with all necessary dental tools and equipment required to perform dental x-rays, cleanings, and exams. 
Connect with our mobile dentistry team to have our dental care services delivered right to your workplace or living center!
Your oral health should always be a priority, but with September being National Gum Care Month, there's no better time than now to get your mouth in tip-top shape. With almost half of the American population suffering from some form of gum disease, it's important that we do what we can to reduce those numbers. Fortunately, with proper gum care and healthy oral habits like daily brushing and flossing along with regular visits to your dentist, gum disease is completely preventable and can be easily managed.
And if you're like many other Americans who find it difficult to get to the dentist, take a look at mobile dentistry options that come directly to you like those offered by Drop-In Dental. Learn more about National Gum Care Health and proper oral hygiene below. 

What is Gum Disease?
Gum disease is a serious infection in the gums of your mouth that lead to damage in the surrounding soft tissue and bone that support your teeth. There are varying degrees of gum disease ranging from mild to severe. Gingivitis is considered a mild form of gum disease while periodontitis is a severe form of infection. Gum disease is often caused by bacterial plaque build-up that leads to tooth decay and tooth loss. Let's take a look at what gum disease looks like.
Signs and Symptoms of Gum Disease 
There are very noticeable signs of gum disease that can be a good indicator that your gum health is suffering. Because gum disease can directly affect other aspects of your health, it's crucial that you take care of these problems as soon as possible. If you notice any of the following signs or symptoms, you may be in need of mobile dental care right away:
Having bad breath or a constant bad/sour taste in your mouth

Separating or loose permanent teeth

Swollen, red, or tender gums

Gums that have pulled away from your teeth

Bleeding gums

Mouth sores or inflammation 
How To Take Better Care of Your Gums
While gum disease is an unfortunate and serious condition, it can be prevented and eradicated through proper oral health practices. Good oral hygiene habits should be developed in early childhood. These habits include brushing your teeth twice daily, flossing daily, using fluoride toothpaste, and avoiding things like smoking. These good habits combined with getting regular dental cleanings can ensure your oral health stays on track. 
Staying up-to-date on your dental care can prevent the development of cavities and gum disease before they begin. This is the best way to ensure proper gum health and to maintain a beautiful smile. The best way to prevent major problems is to catch them early on, or better yet—before they even begin. Your Reno dentist can also provide you with the best oral habits and practices to uphold such as flossing and brushing correctly. 
Mobile OnSite Dentistry from Drop-In Dental 
Our mission is to inspire and facilitate a healthier community by connecting dentistry to the end-user at their workplace, creating a better everyday life and future for all. Our onsite mobile dentistry services make getting proper dental care convenient and simple. This National Gum Care Month, celebrate with a dental exam and cleaning from the experts at Drop-In Dental. 
With the uncertainty of the COVID-19 pandemic, employees working at the office may have had to postpone getting routine health exams, including visiting the dentist. Fortunately for Northern Nevadans, there is Drop In Dental, a mobile dentistry clinic providing full-service dental care that happens right outside your office building! We take the hassle out of trying to schedule your next dental appointment, by bringing the convenience of routine cleanings and checkups to employees right outside their office, when they want it. 
How We Work
There are six important components of how we work that you should know: 
1- The company's HR coordinates with Drop-In Dental to schedule the date for an onsite visit
2- The employer sends an email to their staff introducing our service and including a booking link
3- Employees can use the online scheduler to book appointments at their convenience
4- Dental staff arrive at the worksite on the agreed upon day, and provide dental services to employees
5- Existing insurance covers exams, cleanings, and radiograph services
6- Referrals are provided for urgent dental needs that can't be treated onsite 
 Why Employers Should Choose Drop-In Dental
Drop In Dental improves employee productivity through onsite services providing top quality care, so employees don't have to commute or take time off for their dental health care. In addition, dental issues are often neglected which can lead to the need for more time off when serious issues arise. When an employer coordinates with Drop In Dental for their employees, this further communicates that the company cares about the wellbeing of their staff, which leads to increased employee retention rates at the company. 
Even Big Tech Companies Use Mobile Dentistry Services At Their Workplace
According to MarketWatch, there are already many companies such as Google and Yahoo utilizing mobile dental services in their many locations. Tech companies like these partner with health service companies, like Drop In Dental, that offer mobile health vans to corporations. What's really neat about the mobile dental trucks are that they resemble and have many of the same qualities of a brick and mortar dentistry office, just smaller. They also perform nearly identical services as that of a traditional dentist office, minus some very complicated specialty procedures. While the mobile dentistry practice isn't new, it is becoming more popular today, especially with patients having less time to leave work and go to an appointment, deal with a longer commute, and the scheduling conflicts that can happen from having to book an appointment at the traditional dentist office. Mobile dental service companies are adding more corporate clients every year, and this practice is gaining traction. More employees are now taking advantage of how much easier than ever it is to see a dentist for regular dental care. 
To learn more about Drop In Dental's practice, visit us online at dropindental.com or call us at (775)-453-0142. And remember, our goal is to make employee dental cleanings and checkups less of a scheduling conflict and more of a personal priority! 
Are you part of a company that offers dental insurance to employees? We would love to be a part of your company by bringing our dental team to your workplace.  Please contact us if you would like us to come to your workplace with our professional group of dentists and hygienists to make access to quality dental care easy and accessible.  
We simply bill existing insurance plans and there is no additional cost.
Why Should You Be Getting Your Teeth Cleaned Regularly?
Oral health is about so much more than just the health of the mouth, teeth, and gums. Because the mouth is a primary entryway into the body, poor oral health can have negative consequences for the entire body. Teeth that ache, gums that bleed, and breath that smells bad are all indicators of poor oral health. Bacteria from the mouth can easily get into the bloodstream and cause infection and inflammation wherever it spreads.
It is important to practice good oral hygiene and to see your dentist regularly. 
Here are some common and serious health problems caused by bad oral health:
Cardiovascular Disease
Having poor oral health puts a person at risk for heart disease. If the gums are inflamed due to the bacteria that causes periodontal disease, that same bacteria gets into the bloodstream causing the arteries to build up plaque and harden. This hardening of the arteries is called atherosclerosis, and it is very serious. It leads to blood flow problems and heart blockages, and it increases the likelihood of having a heart attack. The damaging impact on the arteries and blood vessels can lead to hypertension and increase the risk for strokes. Endocarditis can also develop, which can be a serious condition that occurs when the lining of the heart becomes infected.
Luckily, you can prevent gum disease with proper oral hygiene. This will reduce your risk of developing cardiovascular disease and keep your smile healthy and strong.
Dementia
Poor oral health can affect the brain. Substances that are released from gums inflamed by infection have been shown to lead to memory loss. Dementia and possibly even Alzheimer's Disease can result from gingivitis when the bacteria in the mouth spreads to the nerve channels or enters the bloodstream.
Respiratory Infections
The respiratory system can suffer due to poor oral health. Bacteria in the mouth from infected teeth and swollen gums can be breathed into the lungs or travel there through the bloodstream. Once there the bacteria can lead to respiratory infections, pneumonia, acute bronchitis, and even COPD.
Diabetes
Not only are diabetics already more susceptible to infection such as infected gums that lead to periodontal disease, but periodontal disease can in turn make diabetes more difficult to control. Symptoms can worsen as blood sugar levels go haywire because of gum disease. It is especially important for diabetics to take good care of their oral health to prevent complications with their disease. Because gum disease can lead to high blood sugar levels, a person with poor oral health is at an increased risk of developing diabetes.
The Ease and Convenience of Mobile Dentistry
Curious about our clinic? Find out our story and how we can help your business deliver quality dental care.